Stakeholders, at a Conference organized by Rotaract, Called for an Inclusive Approach for Reversing the Health, Economic, and Social Problems of SOOT in the Niger Delta: A Case Study of Port Harcourt.
Posted on: December 12, 2021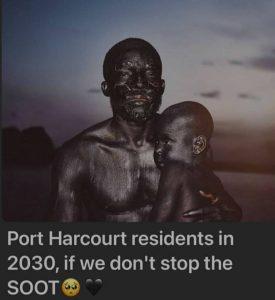 The President of Rotaract Port Harcourt ECO, RT Emem Okon, launched a campaign against SOOT at the Horlinkins Event Centre in Port Harcourt, Rivers State, on 9 December 2021. The SOOT is one among other issues the Port Harcourt ECO has identified to work on in collaboration with other meaningful stakeholders. Nevertheless, stakeholders such as Academic Associates PeaceWorks, HYPREP, Stakeholders Democracy Network, Rivers State Chapter of the Nigerian Medical Association, Researchers and Academia, Environmental Right Action, and others present were mobilized at the conference to develop a roadmap, also taking cognizance of previous efforts toward resolving the menace of SOOT in Port Harcourt.
After a careful review of the SOOT problem and its impact on residents in Port Harcourt and Rivers State at large, the following recommendations were made for immediate and long-term solutions:
Air Quality department should be created in the Ministry of Environment and given the duty to regulate and improve air quality in Rivers State.
The Air Quality Department will be commissioned to install air quality monitors at strategic areas, especially high-impact areas.
Key areas listed for the deployment of air quality monitors in Port Harcourt and its environment are Choba, Ogu-bolo, Okirika, Trans Amadi Industrial Layout, Ogoni, Etche, Degema, and Abonnema. These areas were selected due to the high consumption of fossil fuel and the activities of local crude oil refiners.
Data realized from the air quality monitors should be interpreted in a simplified manner for public awareness and education.
The Ministry of Health should be equipped to carry out the following services to reduce the negative impact of SOOT on the residents of Rivers State:
Conduct routine evaluation on the health condition of people residing in the state that are probable to the causes of SOOT, for instance: cancer, low birthrate, pneumonia, acute respiratory distress syndrome, preterm deliveries, and SIDS.
Stakeholders' should be empowered to carry out enlightenment campaigns on how to mitigate the impact of SOOT.
The federal government should persuade IOCs to stop gas flaring and adopt international best practices.
The federal government should identify local crude oil refiners, enhance their skills in the trade, and set up cluster refineries to stop bunkering activities and oil droplets in the creeks.
The state and federal governments should adopt a multi-stakeholder approach for sustaining the discussion until the problems of SOOT are addressed.
The World Health Organization (WHO) described SOOT as particulate matter (PM), which is a by-product of the incomplete combustion of fossil fuel, the sources of "SOOT" contaminant alias "BLACK SOOT" are circulated by the artisanal refining of hydrocarbon products, gas flaring, burning of tyers, burning of stolen crude oil, and emission of carbon from cars and generators.
Scientific presentations made on SOOT at the conference reveal that the life expectancy of people living in Rivers State is gradually reducing. Also, another study noticed a huge drop in SOOT pollution as a result of poor consumption of fossil fuel during the COVID 19 lockdown in 2020. Again, another scientific study suggests that an uncontrolled level of SOOT intervention could lead to food crises by 2030. As cultivated plants will receive a negative impact because the soil won't have sufficient nutrients. Likewise, Herbivores' animal-like goats, cows, sheep, and antelope may no longer find healthy vegetation for meals, which will ultimately affect meat production. And equally, worsen the ordeal of farmers as herders will be scrambling for farm crops to feed their cows.
Speakers at the event were: Rtn Emem Okon (Charter President, RC PH Eco); Rtn Iniruo Wills (Chairman, Project Mgt Committee); Chris Nku (SDN); Dr. Ferdinand Giadom; and Dr. Bieye Briggs.